This month Bulgarian Art from the Collection of the Ministry of Foreign Affairs had been exhibited at the Europe House in London. In essence the exhibition was a display of Bulgarian artists over the last 50 years, nevertheless 'The Land of Roses Exhibition' presents more then just one lifetimes worth of work and therefore only partially conceptualizes what Bulgarian art has achieved over half a century. 
Being that the collection presents nine very different artists with a diverse appreciation of the abstract and the figurative; here in a little more detail are the artists who have been hanging on the walls of Europe House. 
David Peretz (1906-1982)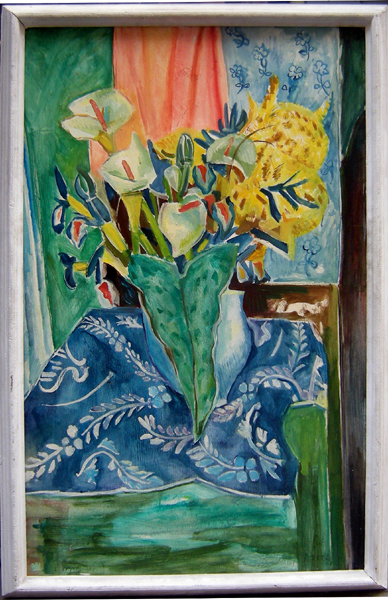 David Peretz had received his diploma as painter at the Art Academy in Sofia in 1932; his work revolves around colour, and emphasis. This close relationship with abstract was inspired by the teachings of Prof. D.Gynjenov. From 1947 he studied in Paris alongside the French abstract painter and sculptor Andre Lott, living and working there until his death in 1982.
Genko Genkov (1923-2006)
'I dig into my colours, I cultivate them just like a man with a spade.'
Born in 1923 in the village of Choba, Sliven, he graduated in the Painting Department in 1948 at National  Academy of Art in the studio of Prof. Dechko Uzunov. Much of his work is critiqued as revealing elements of the art of post-impressionism and fovism movement.
Alike many of the artists in this list; over the years Genkov experimented with a variety of methods and techniques. The seventies was an exploration in potential materials, and applying oils as if they were water-colour, and treating surfaces with sand. Sometimes replacing a paint brush with a knife.
Visually this created a multi-dynamic surface, and gave depth to the landscapes he portrayed.
Genkov stepped away from this aesthetic in the nineties however, and used pigments that have remnants of ceramic glazing.
Many of his works are now preserved in the Sofia Art Gallery.
Georgi Baev (1924-2007)
(also commonly known as Georgi Baew)
Graduating in 1949, Baew also studied painting with Ilija Petrov and Detscko Ussunov at the National Academy of Fine Arts in Sofia 
The artist had a history of focusing on the art movement of mannerism; a late Italian art movement in the Renaissance age, but was also a professional graphic artist.
A member of the Association of Bulgarian Painters, the Kunstverein Burgas , the Vienna Künstlerhaus and the Japanese artists' association Nika-kai. The beginning of his career enjoyed the emphasis of  calmer characteristics in his work; focusing on subtle landscapes; piers, harbors, and boats.
Alas, his work became increasingly dramatic after his studio was struck by an arson attack in 1983. 
This heavily effected his style, using fire as inspiration in more gritty topics. Collages of the remnants of his paintings, and focus on titles such as 'Refugees,' 'The most beautiful drowning man,' etc. 
Elza Goeva (b. 1928);
Elza Goeva has recently been presented alongside the work of Olga Valnarova, Maria Stolarova at the ARTE Gallery (Sofia Art Galleries) only last year.
Born 28 July 1928 in Bolyarovo village, the Elhovo region she graduated under Prof. P. Panayotov from the Academy of Fine Arts – Sofia, in 1953.
She is a highly regarded painter who seeks to express herself by morphing different hues in tactile texture. The imagery presented in her work resigns in a large way with observers, perhaps because there is an undeniable familiarity of her subjects with the viewer.
Encho Pironkov (b. 1932)
Encho Pironkov was noticed in 1961 when his paintings were shown at the First National Youth Exhibition in Sofia, while he had no artistic education he was part of the famous "School of Plovdiv from the 1960s". 
Born on 9 November 1932 in the village of Rozovets in Plovdiv, while the artist has exhibited in his home town, he has also made dozens of solo exhibitions in Plovdiv and Sofia as well as abroad: Berlin, Bologna, Budapest, Warsaw, Dresden, Cologne, Leipzig and others.
Pironkov character of work is intensely abstract; the artist often building his compositions with a plot, and various geometrical figures becoming entangled within it. Often these sharp shapes are placed against more opaque figures such as  fish, horse, and human figures.
The artists work focuses on his own connection to rural life; Old Plovdiv, but this is paralleled with other pieces of political events such as the April Uprising.
Rich in color; the Pironkov also works in the field of applied monumental art (mosaics, frescoes, stained glass, wooden and metal sculpture.)
Nikola Manev (b. 1940)
He was born in Pazardzhik, graduated from the high school of arts in Sofia , and in 1962 he was admitted to the French Academy of Fine Arts, where he graduated " Painting " in the class of Professor Morris Brianchon .
He then settled in Paris, in a studio in Ile-de-France, but spent his entire life circulating around the world and gaining impressions on his canvases.
Manev has over 137 individual exhibitions all over the world and numerous group exhibitions and biennials.
Manev focus has set on exploration of the mystical,  The combination of fairytales has acted as inspiration for his work. 'The strange earth formations of Bulgarian nature, the desert of Algeria and Tunisia , Mexican motifs, but one of which returns very often – the romantic views of the Parisian rooftops and chimneys'.
In April 2000; Nikola Manev bought an old Revival house in Chirpan, restored it and the city the sole beneficiary of the property.  . Together with the Peyo Yavorov House Museum; Nikola Manev has donated 40 paintings from different periods to the Revival house. 

Suli Seferov (b. 1943)
Suleiman (Suli) Seferov was born on 8 December 1943 in Sofia. He graduated from the National Academy of Fine Arts in 1969, in the class of Prof. Iliya Petrov.
He has participated in all major national exhibitions as well as in many performances of Bulgarian art abroad: Canada, Southeast, Greece, Kuwait, France, Mexico, Poland, Switzerland, Japan, England, Yugoslavia, Germany and others. 
There is something quite beautiful with the work of Seferov, as his work acts as window which allows the observer to peak through. It greets them with a subject, and its completely different world and perspective.
Seferov's work is now exhibited the National Art Gallery, the Sofia City Art Gallery, the Pushkin Museum in Moscow, the Ludwig Gallery in Cologne, galleries and private collections in the country and abroad. 
Alexander Kaprichev (1945-2008)
Alexander Kaprichev was born in Varna in 1945; from receiving a degree in Mural painting with prof. Georgi Bogdanov and prof. Mito Ganovski, he started as a freelance artist in one of the studios of the former factory, "Vulkan", turned into artists' studios centre.
Alexander Kaprichev's style, has been defined as lyrical abstraction and the abstract expressionism, drawing on the Bulgarian and world art traditions. Alexander Kaprichev's art comprises fine art paintings and decorative-monumental works. He has left a considerable number of paintings, watercolours, drawings, etchings and projects for monumental art, murals, stained glass and tapestries.
Alexander Kaprichev's has received much posthumous recognition; in recent years his art was shown in several exhibitions: a retrospective exhibition of paintings, watercolours and drawings was presented at the Varna City Art Gallery in 2010, later that year on a selection of his artwork was exhibited at Sredets Art Gallery of the Ministry of Culture, Sofia. Gallery 8 has also exhibited various some unseen graphic art, etchings, watercolors and lithographs, since 2011, and 2013.
At the London Art Biennale 2015, with 140 participating artists from 40 countries, Alexander Kaprichev's work was awarded with a Special Mention for Excellence in painting. The Inspiring Spaces exhibition was again shown at Varna City Art Gallery, between 30th  July and 30th August 2015, then dedicated to 70 years of the artist's birth
Vasil Stoev (b. 1950)
The art of Vasil Stoev is a world-amalgam of harmonies and contrasts. The expressive style of the work, the lyrical mood and the intensity of colours are more significant for the artist than the concrete image in it.
The wonderful vivid combinations are the ones that create the forms and organize the nature of his paintings. Thus the artist makes his own picturesque world with an authentic creative touch.
Vasil Stoev is a long-ago known artist and among the most popular Bulgarian authors with exhibitions all over the world.
Bulgarian Art in the last decade has been invigorated by the sense of strength of liberalization, as it created the circumstance for artists (such as above) the chance to express their passion and opinions through the medium of art. The opportunity to emigrate and study in Europe allowed these artists to experiment with new forms and techniques. By the end of the century, Bulgarian artists were using new forms of genres (such as installations and performance art) to voice more vividly criticism, this exhibition has been able to pluck these voices straight from the canvas's and present them in celebration for the European Year of Cultural Heritage.